18/03/2017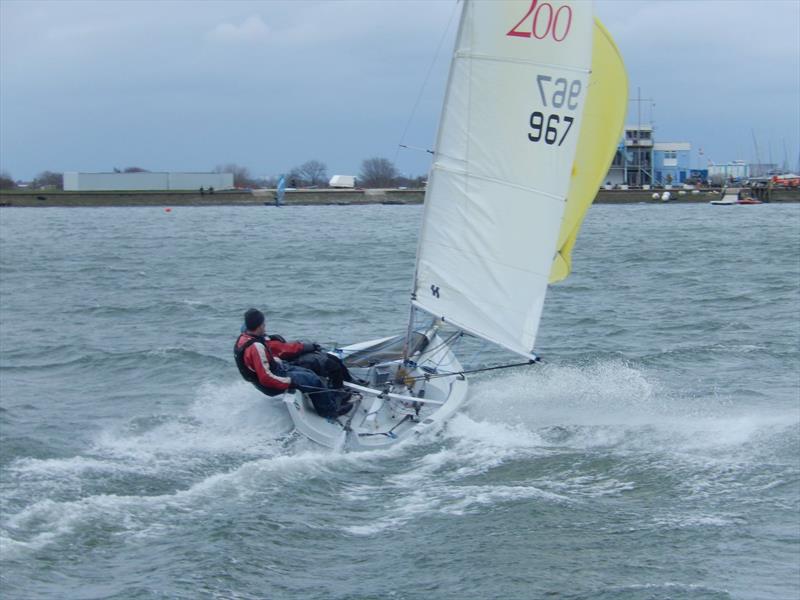 14 helms and their spinnaker monkeys turned up to participate in the first round of the 2017 RS200 SEAS Series. For those more used to less space, the prospect of fanging around a big pond in a gnarly but mild F 5-6 at QM appealed hugely – although equally, you got that faintly sphinctery feeling as you hear the dinghy park rigging whistle as you launch. Well, I do.
Ben Palmer and the Titian Fission that is Claire Walsh led from gun to gun in race one, from Rob Henderson and Freddy Wood. Myself and the Shrimp slipped past an unlucky (well, he said he was) Andy Peters for third. The latter came back in race 2 to win from Ben Palmer and his Henna Senna, and then Bradley/Cafferata. I think the Woods burnt in R2, only to come good and win race 3 from Palmer/Walsh and Peters/Badger. In the last race the Peters won from Bradley/Cafferata to take the event on countback.
Huge thanks go to the team at Queen Mary, in particular the unswervingly charming Race Officer Paul Stainsby with his wife Karen, who dovetailed 4 perfectly managed races, took a load of pictures and got us off the water in time for this Ulsterman to catch the rugby...
Julian Bradley
| Pos | Sail No | Helm | Crew | Club | R1 | R2 | R3 | R4 | Pts |
| --- | --- | --- | --- | --- | --- | --- | --- | --- | --- |
| 1st | 1559 | Andrew Peters | Jill Peters | Queen Mary SC | ‑4 | 1 | 3 | 1 | 5 |
| 2nd | 1628 | Ben Palmer | Claire Walsh | Hayling Island SC | 1 | 2 | 2 | ‑3 | 5 |
| 3rd | 1178 | Julian Bradley | Helen Cafferata | Wembley SC | 3 | 3 | ‑5 | 2 | 8 |
| 4th | 1325 | Charlotte Wood | Mike Wood | Hayling Island SC | 5 | ‑12 | 1 | 4 | 10 |
| 5th | 629 | Rob Henderson | Freddy Wood | Hayling Island SC | 2 | (RET) | 4 | 5 | 11 |
| 6th | 1228 | Joe Adams | Euan Bradshaw | Burghfield SC | ‑6 | 4 | 6 | 6 | 16 |
| 7th | 419 | James Bayliss | Lucinda Bayliss | Queen Mary SC | ‑12 | 5 | 8 | 7 | 20 |
| 8th | 1511 | Mike Green | Lynne Ratcliffe | Eastbourne & Pevensey Bay SC | 8 | 7 | 7 | ‑10 | 22 |
| 9th | 974 | Adam Wickenden | Flossie Tanner | Silverwing SC/ QMSC | ‑10 | 8 | 9 | 8 | 25 |
| 10th | 967 | Graham Flynn | Isobel Tate | Chase SC | (RET) | 6 | 11 | 11 | 28 |
| 11th | 994 | James George | Harry George | Queen Mary SC | 9 | 10 | 10 | (DNS) | 29 |
| 12th | 1150 | David Beaney | Hannah Liptrot | Wembley SC | 7 | 11 | 13 | (DNS) | 31 |
| 13th | 1265 | Julie Harrison | Fiona Fardon | Queen Mary SC | 11 | 9 | 12 | (RET) | 32 |
| 14th | 1565 | Roger Wilson | Tess Darbyshire | Welsh Harp SC | (DNF) | 13 | 14 | 9 | 36 |