RS200 Sailing Chandlery Northern Tour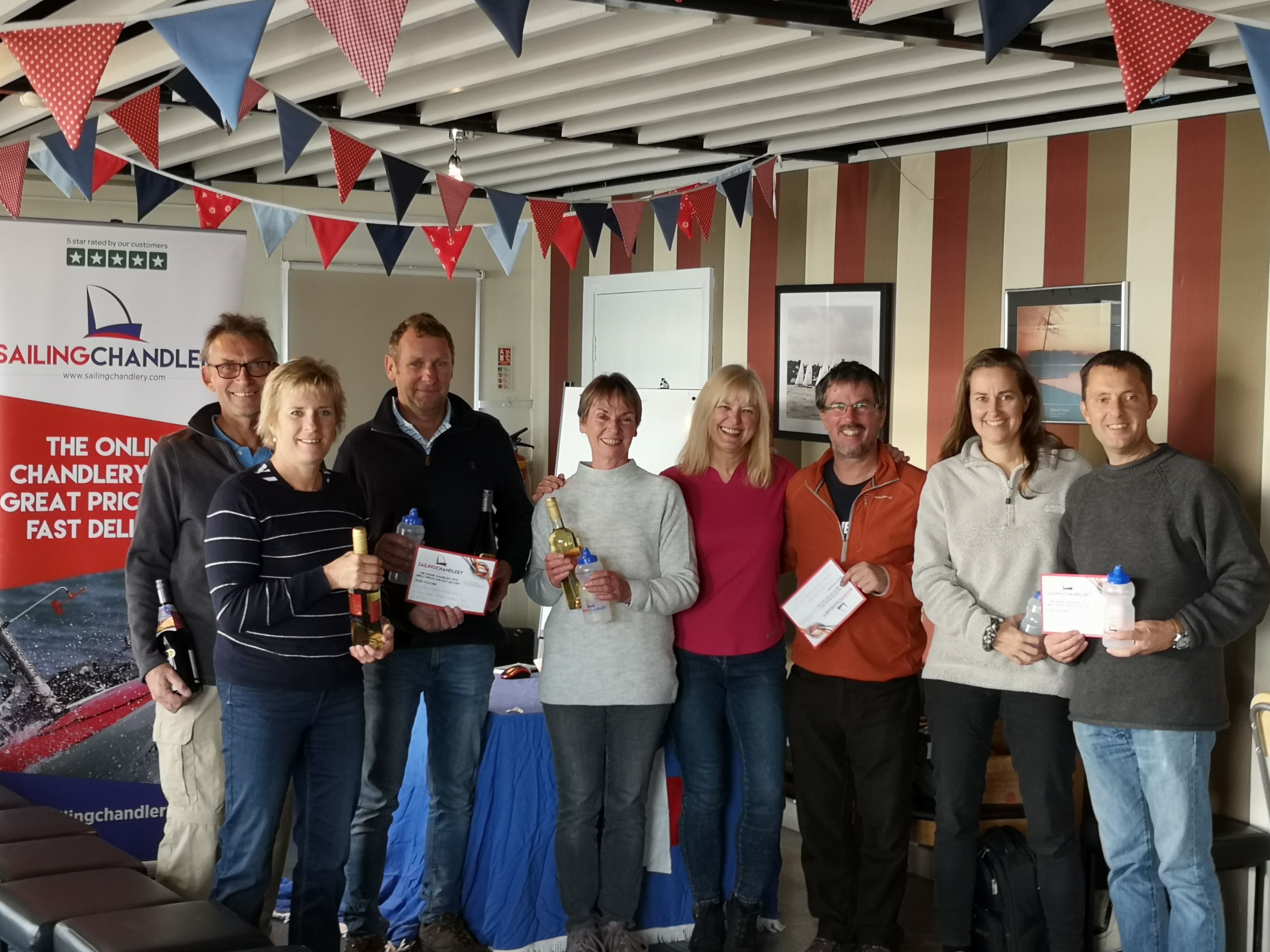 2018 was the year when the wind didn't blow and this unfortunately led to the abandonment of both the Staunton Harold SC and leigh & Lowton SC events.
As a result, the originally planned eight event series with four results to count had to be shortened to a six event, three results to count series.
35 different boats entered the 6 events with nine boats qualifying for the series
Racing was tight throughout the year, but the penultimate event at Carsington saw Ollie Groves and Esther Parkhurst, the 2016 & 2017 winners, put their seal on the series for a third successive season.
Marin & Sian Joesbury took the runners up spot with Jon Chapman & Wendy Martin taking third on countback from Martin & Barbara Smith.
Sailing Chandlery's generous sponsorship allowed prizes to be awarded to the top 7 boats in addition to the eight vouchers that were raffled off at the six events that were sailed.
The RS200 Northern Tour would like to thank Sailing Chandlery for their support this year and look forward to continuing the relationship for the 2019 series.
The RS Class Association would also like to thanks Jon Ward for his hard work and dedication in organising this hugely successful tour.
Sailing Chandlery 2018 RS200 Northern Tour Series
Final Series Positions
Overall
Sailed: 6, Discards: 3, To count: 3, Entries: 35, Scoring system: Appendix A
Rank
SailNo
Club
HelmName
CrewName
Delph
Ullswater
Yorkshire Dales
Filey
Carsington
Budworth
Total
Nett
1st
1637
Beaver SC
Oliver Groves
Esther Parkhurst
(37.0 DNC)
1
-7
2
1
(37.0 DNC)
85
4
2nd
1606
Budworth SC
Martin Joesbury
Sian Joesbury
1
3
(37.0 DNC)
(37.0 DNC)
-8
2
88
6
3rd
1314
Budworth SC
Jon Chapman
Wendy Martin
3
-10
5
(37.0 DNC)
-10
1
66
9
4th
1068
Delph SC
Martin Smith
Barbara Smith
4
-6
3
(37.0 DNC)
2
-5
57
9
5th
1419
Budworth SC
Russell Page
Vicky Page
2
(37.0 DNC)
4
(37.0 DNC)
-5
4
89
10
6th
1551
Leigh & Lowton SC
Louise McKeand
Cathy Partington
-8
(37.0 DNC)
2
(37.0 DNC)
3
6
93
11
7th
1651
Bassenthwaite SC
Robin Dawson
Erin Dawson
(37.0 DNC)
5
(37.0 DNC)
(37.0 DNC)
7
7
130
19
8th
1195
Bassenthwaite SC
Alex Leonard
Olivia Leonard
6
7
(37.0 DNC)
(37.0 DNC)
6
-9
102
19
9th
1560
Budworth SC
Jon Ward
Heather Ward
7
-9
6
(37.0 DNC)
(37.0 DNC)
8
104
21
10th
1538
Beaver SC
Martin Penty
Sam Waller
(37.0 DNC)
2
(37.0 DNC)
1
(37.0 DNC)
37.0 DNC
151
40
11th
1644
Budworth SC
Tony Wilcock
Rebecca Kershaw
9
(37.0 DNC)
(37.0 DNC)
(37.0 DNC)
37.0 DNC
10
167
56
12th
1076
Ullswater YC
Ethan Dawson
James Abbatt
(37.0 DNC)
13
8
(37.0 DNC)
(37.0 DNC)
37.0 DNC
169
58
13th
1118
Yorkshire Dales SC
Robert Richardson
Faye Caswell
(37.0 DNC)
(37.0 DNC)
1
(37.0 DNC)
37.0 DNC
37.0 DNC
186
75
14th
1137
Budworth SC
Tony Taylor
Debbie Sutcliffe
(37.0 DNC)
(37.0 DNC)
(37.0 DNC)
37.0 DNC
37.0 DNC
3
188
77
15th
538
Filey SC
James Whitehead
Thomas Whitehead
(37.0 DNC)
(37.0 DNC)
(37.0 DNC)
3
37.0 DNC
37.0 DNC
188
77
16th
1181
Leigh & Lowton SC
Dave Exley
Jack Exley
(37.0 DNC)
(37.0 DNC)
(37.0 DNC)
37.0 DNC
4
37.0 DNC
189
78
17th
1118
Yorkshire Dales SC
Faye Caswell
Rob Featherstone
(37.0 DNC)
(37.0 DNC)
(37.0 DNC)
4
37.0 DNC
37.0 DNC
189
78
18th
934
Hollingworth Lake SC
Richard Marsh
Lauren Marsh
(37.0 DNC)
4
(37.0 DNC)
(37.0 DNC)
37.0 DNC
37.0 DNC
189
78
19th
1192
Beaver SC
Richard Hanby
Brian Kelly
(37.0 DNC)
(37.0 DNC)
(37.0 DNC)
5
37.0 DNC
37.0 DNC
190
79
20th
1071
Beaver SC
Sam Waller
Tim Waller
5
(37.0 DNC)
(37.0 DNC)
(37.0 DNC)
37.0 DNC
37.0 DNC
190
79
21st
1251
Pennine SC
Harry Capplemann
Ed Barnes
(37.0 DNC)
(37.0 DNC)
(37.0 DNC)
6
37.0 DNC
37.0 DNC
191
80
22nd
538
Beaver SC
James Penty
Eddie Grayson
(37.0 DNC)
8
(37.0 DNC)
(37.0 DNC)
37.0 DNC
37.0 DNC
193
82
23rd
534
Carsington SC
Richard Brown
Annabel / Oliver Brown
(37.0 DNC)
(37.0 DNC)
(37.0 DNC)
37.0 DNC
9
37.0 DNC
194
83
24th
804
Yorkshire Dales SC
Mark Hide
Emiley Hide
(37.0 DNC)
(37.0 DNC)
9
(37.0 DNC)
37.0 DNC
37.0 DNC
194
83
25th
440
Yorkshire Dales SC
James Gibbson
Ben Fryer
(37.0 DNC)
(37.0 DNC)
10
(37.0 DNC)
37.0 DNC
37.0 DNC
195
84
26th
724
Delph SC
Alan Barton
Nicola Gillham
10
(37.0 DNC)
(37.0 DNC)
(37.0 DNC)
37.0 DNC
37.0 DNC
195
84
27th
847
Budworth SC
Chris Smallwood
Marie Smallwood
(37.0 DNC)
(37.0 DNC)
(37.0 DNC)
37.0 DNC
37.0 DNC
11
196
85
28th
769
Swarkestone SC
David Moore
J Moore
(37.0 DNC)
(37.0 DNC)
(37.0 DNC)
37.0 DNC
11
37.0 DNC
196
85
29th
1071
Beaver SC
Gemma Francis-Burnett
Tim Waller
(37.0 DNC)
11
(37.0 DNC)
(37.0 DNC)
37.0 DNC
37.0 DNC
196
85
30th
1452
RYA
Alastair Hodgson
Joanna Worrall
(37.0 DNC)
(37.0 DNC)
(37.0 DNC)
37.0 DNC
37.0 DNC
12
197
86
31st
1037
Leigh & Lowton SC
Charlie Exley
Caroline Exley
(37.0 DNC)
(37.0 DNC)
(37.0 DNC)
37.0 DNC
12
37.0 DNC
197
86
32nd
1445
Bassenthwaite SC
Ciaran McKettrick
Izzie Hunter
(37.0 DNC)
12
(37.0 DNC)
(37.0 DNC)
37.0 DNC
37.0 DNC
197
86
33rd
1435
Budworth SC
Hugh Smallman
Ray
(37.0 DNC)
(37.0 DNC)
(37.0 DNC)
37.0 DNC
37.0 DNC
13
198
87
34th
922
Ullswater YC
Isabel Abbatt
Emily Ingham
(37.0 DNC)
14
(37.0 DNC)
(37.0 DNC)
37.0 DNC
37.0 DNC
199
88
35th
454
Girton SC
Steve Bishop
Amie King
(37.0 DNC)
15
(37.0 DNC)
(37.0 DNC)
37.0 DNC
37.0 DNC
200
89
Sailwave Scoring Software 2.25.11
www.sailwave.com