Results / Easter Egg Waldringfield - 09/04/2023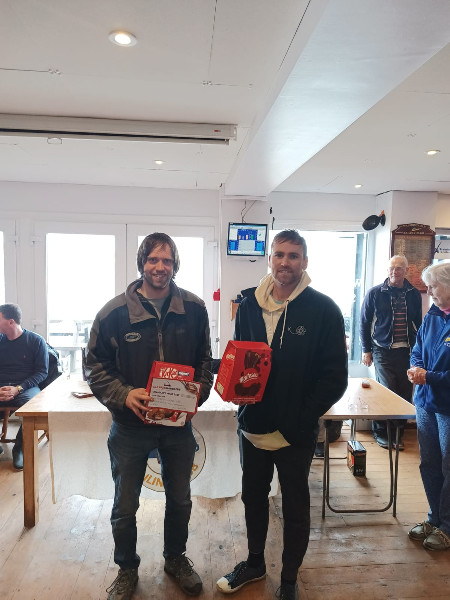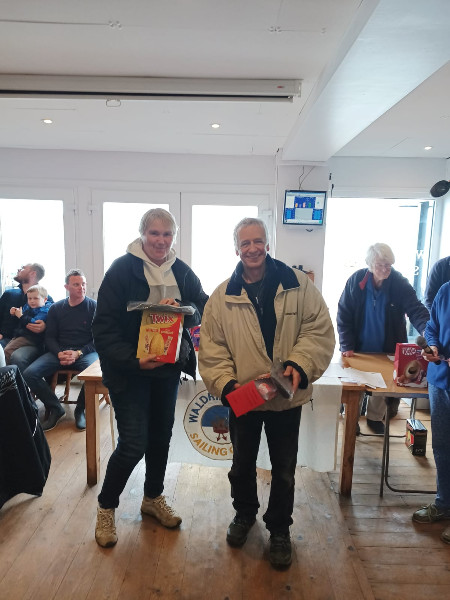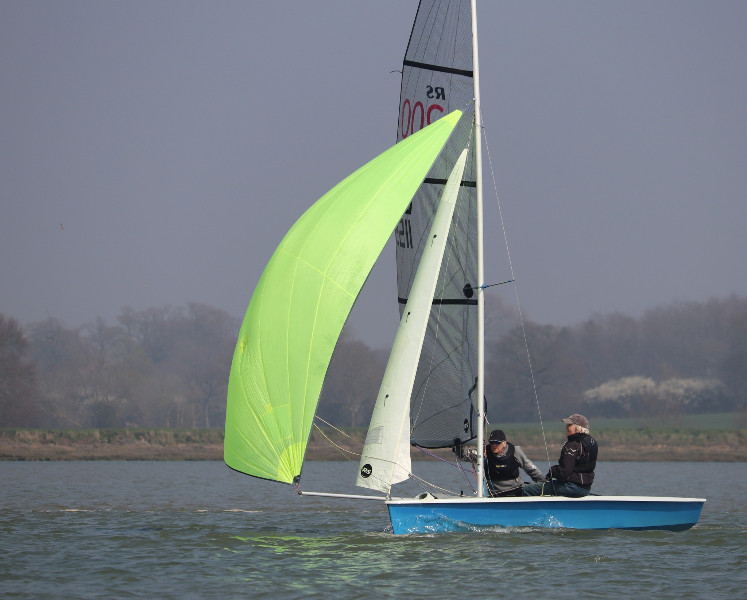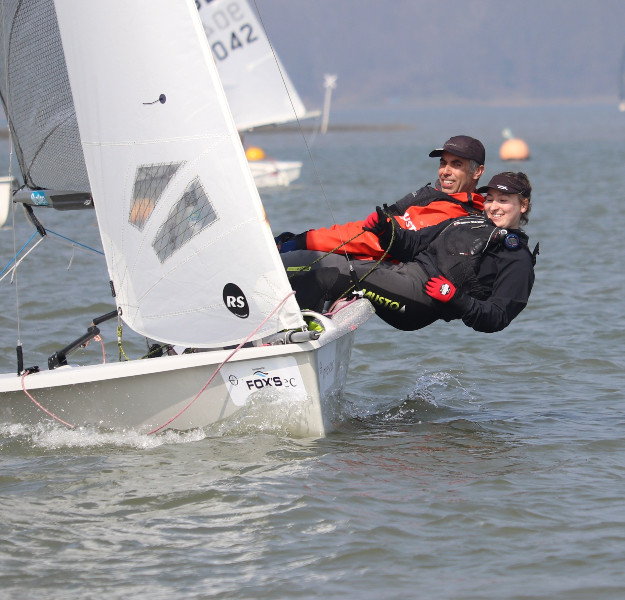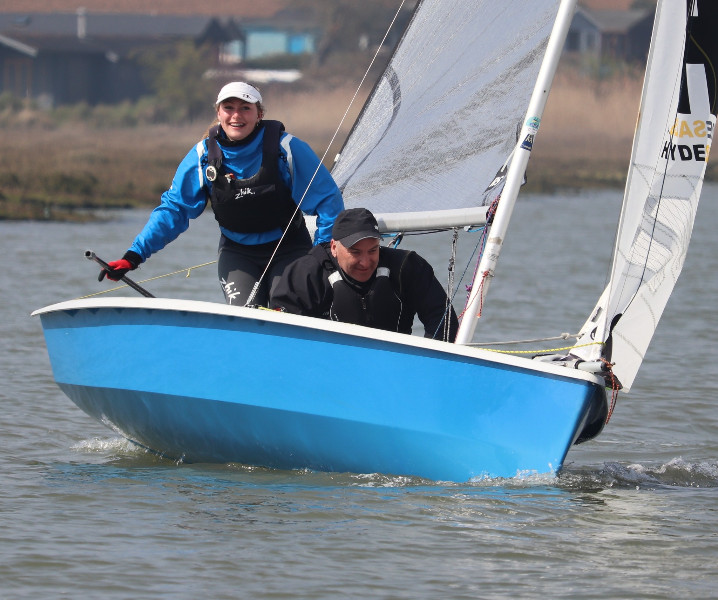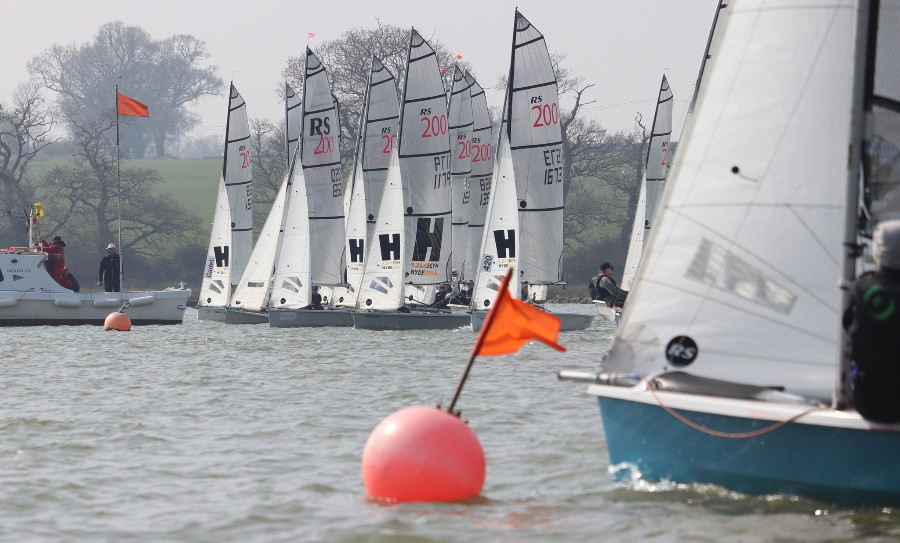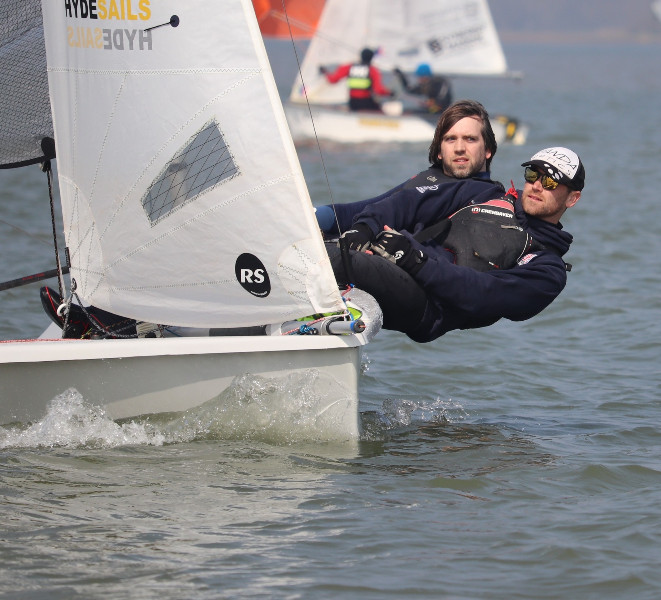 RS200 Sailing Chandlery EaSEA Traveller Round 3 at the Waldringfield Easter Egg
9-10th April 2023
A record turnout, 28 RS200s descended on Waldringfield Sailing Club to battle it out in the 3rd round of the EaSEA traveller series. It was a weekend of contrasts with wall to wall sunshine and light winds on Sunday, then Monsoon conditions and gusts over 30 knots on Bank Holiday Monday.
Race one started in a light Southerly with a long beat against the flood tide making for some fantastic early season tacking practice as the fleet worked the righthand bank.
Antony and Jo Gifford, having travelled all the way from the Royal Tay Yacht Club, made the starboard end of the start line their own and shot into an early lead from local favourites Ian and Alyson Videlo. These two swapped places a couple of times but it was Antony and Jo who ultimately won through with Alan Krailing and Libbie Bush in 3rd.
Race two and Antony and Jo were at it again this time port tacking the fleet from the pin end, having held the lead for most of the race they were overhauled late on by the super-fast pairing of Tom Ahlheid and Bee Nee taking the win, and Ian and Alyson coming through for another 2nd place.
Race three with the breeze building to 10 knots, the Giffords and Videlos were battling it out once again, but this time it was the younger generation leading the way with James and Rory Gifford battling it out with Stephen and Chris Videlo. Ultimately it was Team Videlo that took the win, with James and Rory in a very strong 2nd , and Archie Penn and Alex Bell-Jones 3rd.
Sunday's weather turned out to be exactly as forecast and there was a distinct lack of enthusiasm for rigging as the rain continued to pour. This temporary inconvenience ultimately proved more than worth it with most returning grinning ear to ear after some fantastic downwind legs (personally I was less keen on the upwind bit against the strong tide!).
Matt and Will Taylor showed that these were the conditions they had been waiting for - shooting off into an unassailable lead with Videl's Stephen and Chris, and Ian and Alyson, vying for 2nd. In the end youth gave way to experience with Ian and Alyson finishing runners-up.
In the final race of the day it was again Matt and Will at the front early on with Stephen and Chris hot on their heels. Ultimately it was Stephen and Chris who broke clear to take the win and with it the event. Tom and Char Stewart showed that the breeze had blown away the early season cobwebs with a strong 3rd place.
A big thank you to all the volunteers who made the event possible and thanks also to all those making long trips to compete, we hope to see you all again next year!
By Alan Krailing
Drone footage by Damien Bayard
here
And more photos on facebook
here
Prize giving photos thanks to Will Taylor
Sailing photos thanks to Alexis Smith
Easter Egg
Waldringfield Sailing Club
RS200
Sailed: 5, Discards: 1, To count: 4, Rating system: PY, Entries: 28, Scoring system: Appendix A
Rank
Sail No
Club
Helm Name
Crew Name
R1
R2
R3
R4
R5
Total
Nett
09/04/2023
09/04/2023
09/04/2023
10/04/2023
10/04/2023
1st
1447
Waldringfield SC
Stephen Videlo
Chris Videlo
4
-6
1
3
1
15
9
2nd
1155
Waldringfield SC
Ian Videlo
Alyson Videlo
2
2
-14
2
7
27
13
3rd
1576
Waldringfield SC
Alan Krailing
Libbie Bush
3
-14
4
4
4
29
15
4th
1436
Frensham Pond SC
Tom Ahlheid
Bee Nee
-11
1
5
8
5
30
19
5th
1673
Waldringfield SC
Harry Chatterton
Tim Crossley
-14
7
8
6
6
41
27
6th
573
Lymington Town SC
Will Taylor
Matt Taylor
15
10
-19
1
2
47
28
7th
1350
Waldringfield SC
Thomas Stewart
Charlotte Stewart
7
11
-12
7
3
40
28
8th
1421
University of Strathcyde SC
James Gifford
Rory Gifford
5
-18
2
11
12
48
30
9th
1720
Waldringfield SC
Chris Mayhew
9
8
-10
10
9
46
36
10th
1021
Waldringfield SC
Cameron Harris
Abi Holden
(29.0 DNC)
9
7
16
13
74
45
11th
1521
QMSC/Sutton SC
Matt Venables
Bethan Matthew
6
5
6
(29.0 DNC)
29.0 DNC
75
46
12th
1182
Waldringfield SC
Andrew Nunn
Becky Rains
13
-23
16
9
8
69
46
13th
785
Queen Mary SC
Andrew Wishart
James Hayward
16
-17
15
5
11
64
47
14th
1358
Queen Mary SC
Charlie Whitaker
Lucy Gates
-21
13
9
12
15
70
49
15th
1200
Royal Natal Yacht Club
Ryan Robinson
Imogen Bellfield
10
-16
11
13
16
66
50
16th
1397
Royal Tay YC
Antony Gifford
Jo Gifford
1
3
20
(29.0 DNC)
29.0 DNC
82
53
17th
1179
Waldringfield SC
Archie Penn
Alex Bell Jones
18
4
3
(29.0 DNC)
29.0 DNC
83
54
18th
433
Waldringfield SC
Adam Fuller
Saffron Hill
17
15
(29.0 DNC)
15
10
86
57
19th
1247
Waldringfield SC
Issy Taylor-Jones
Cara Bland
8
12
13
(29.0 DNC)
29.0 DNC
91
62
20th
1638
Waldringfield SC
Hattie Collingridge
Sarah Northey
-23
21
22
14
14
94
71
21st
1310
King George Sailing Club
Andrew Mitchell
Sam Cannell
20
19
21
17
(29.0 DNC)
106
77
22nd
1727
Queen Mary SC
David Copse
Rowan Copse
12
22
18
(29.0 DNC)
29.0 DNC
110
81
23rd
1142
DYC
Ben Alexander
Liz Alexander
19
20
17
(29.0 DNC)
29.0 DNC
114
85
24th
985
Felixstowe Ferry
Tilly Jones
Chris Jones
(29.0 DNC)
29.0 DNF
29.0 DNF
18
17
122
93
25th
430
King George
Kentaro Yamada
Cameron Currie
25
25
24
19
(29.0 DNC)
122
93
26th
540
Waldringfield SC
Ines Green
Bea Green
24
24
23
(29.0 DNC)
29.0 DNC
129
100
27th
1031
Waldringfield SC
Lucy Rains
Julian Rains
22
26
26
(29.0 DNC)
29.0 DNC
132
103
28th
1072
Waldringfield SC
Andrew Bush
Amelia Mayhew
26
27
25
(29.0 DNC)
29.0 DNC
136
107