Results / Chew Valley Lake SC - 29/10/2022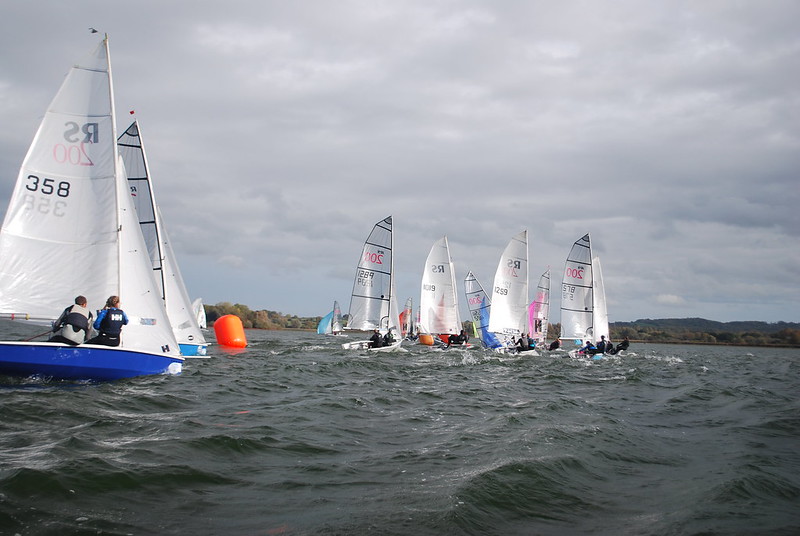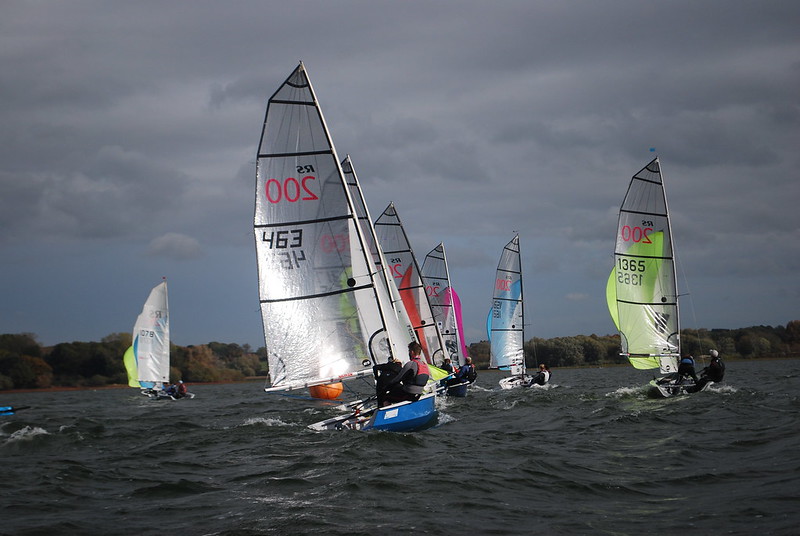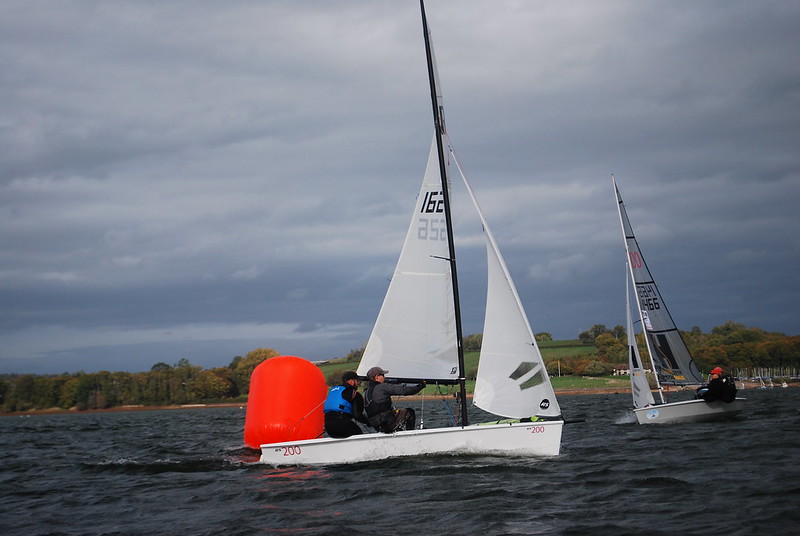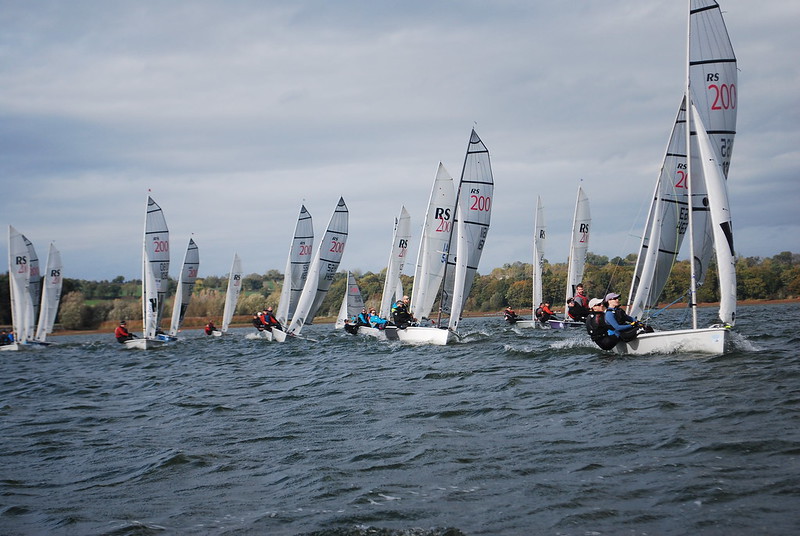 Chew Valley Lake SC RS200 SW Ugly Tour 29th September sponsored by Westcountry Boat Repairs
Un-seasonably warm weather and the promise of breeze greeted the 26 strong RS200 fleet, for the finale of the Westcountry Boat Repairs sponsored SW Ugly tour. The event usually marks the beginning of winter, with competitors reaching into the inner depths of their kit bags for that extra layer, this was a pleasant surprise! Chew couldn't have organised a better wind direction, as many inland venues currently, the tide is low, however wind direction running the length of the lake was perfect.
Race one, and with a building force 3-4, it was Edd Whitehead/Chris Baker who led the charge, winning the race from Henry Hallam/Ashley Hill in second, Merrick Stanley/Victoria Upton third, closely followed by Nick/Hannah Smith and Alistair Hodgson/Ella Spain. The fleet putting down a clear marker that we were in for a day of very close racing.
Race two and the conditions saw an increase in the gusts, with plenty of potential for downwind fun and place changing. Yet again Whitehead/Baker pulled to the front of the fleet, leaving the fight behind them for the rest of the places, and there was plenty of place changing. John Teague/Naomi Pound took second on the final run, from Cliff/Bec Milliner in third, followed by Hallam/Hill and local Chew boat Dave Sweet/Derian Scott.
The third race saw the breeze build further, with the very slick race team deciding that the fleet were obviously far too fast, and adding an additional lap to make it a 4 lap race. It was tight at the top, with four or five boats having the lead at one time or another, culminating in a big final run. Teague/Pound, Hallam/Hill and Whitehead/Baker were all within a boat length or two and all was to play for. In what was now edging an exciting f5, Hallam/Hill went all-in throwing in a big gybe and manoeuvre trying to cross the transom of Whitehead/Baker, this however proved to be a little ambitious and they took a dip. This led to a blast off to the finish, with Whitehead/Baker sneaking the final gybe just in front of Teague/Pound to take their third win. Third just behind was Stanley/Upton and Hodgson/Spain, with Hallam/Hill recovering to fifth place.
A brief intermission before the final race, with some drama as Edd Whitehead/Chris Baker spotted a fellow competitor tangled and in a spot of bother during a capsize. Swift action saw the days hero, Chris 'Mick Dundee' Baker, knife between his teeth, dive into the rescue and save the day, without a doubt stopping any chance of the situation escalating.
Clearly a boat of many talents, yet again Whitehead/Dundee had a magnetic attraction to the front of the fleet, along with Teague/Pound seemingly glued to their transom, the two boats showed the fleet a clean pair of heels to the finish. Hallam/Hill took third, with the Milliner's in fourth and the consistent Hodgson/Spain in fifth and a superb finish for Rose Hallam/Benjamin Marsden in sixth.
Cake and prizes greeted the fleet back ashore, following a highly enjoyable day on the water run by a very efficient race team as always. With a clean four bullets, it was no surprise that the winners were Edd Whitehead/Chris 'Dundee' Baker from Parkstone/Bristol Corinthian. Second place was John Teague/Naomi Pound from Bristol Corinthian, with Henry Hallam/Ashley Hill from St Mawes taking third, Cliff Milliner/Bec Milliner from Cotswold SC took fourth overall, and Alistair Hodgson/Ella Spain from Draycote Water in fifth. The Silver fleet was won by "haven't they been promoted yet?" Dave Sweet/Derian Scott from Chew Valley, with the Bronze fleet won by Rose Hallam/Benjamin Marsden after their great last race.
Thanks must go to our fabulous sponsors Westcountry Boat Repairs, with Pete 'Ugly' Vincent awarding the much coveted Ugly mugs for the 2022 Ugly Tour winners. The headline for this years tour must be Henry Hallam and Ashley Hill do it again, with a second win in as many seasons. The full report of this years, yet again superb, Ugly tour will follow shortly!
John Teague
RS 200 Class
| Rank | Fleet | Class | Sail Number | Helm | Crew | Club | R1 | R2 | R3 | R4 | Total | Nett | Notes |
| --- | --- | --- | --- | --- | --- | --- | --- | --- | --- | --- | --- | --- | --- |
| 1st | RS 200 | RS 200 | 1626 | Edd Whitehead | Chris Baker | Parkstone SC / BCYC | (1.0) | 1.0 | 1.0 | 1.0 | 4.0 | 3.0 | |
| 2nd | RS 200 | RS 200 | 1365 | John Teague | Naomi Pound | Bristol Corinthians | (6.0) | 2.0 | 2.0 | 2.0 | 12.0 | 6.0 | |
| 3rd | RS 200 | RS 200 | 1621 | Henry Hallam | Ashley Hill | St Mawes SC | 2.0 | 4.0 | (5.0) | 3.0 | 14.0 | 9.0 | |
| 4th | RS 200 | RS 200 | 1289 | Cliff Milliner | Bec Milliner | Cotswold SC | (10.0) | 3.0 | 6.0 | 4.0 | 23.0 | 13.0 | |
| 5th | RS 200 | RS 200 | 1452 | Alistair Hodgson | Ella Spain | Draycote Water SC | 5.0 | (9.0) | 4.0 | 5.0 | 23.0 | 14.0 | |
| 6th | RS 200 | RS 200 | 1078 | Merrick Stanley | Victoria Upton | Llandegfedd SC | 3.0 | 10.0 | 3.0 | (13.0) | 29.0 | 16.0 | |
| 7th | RS 200 | RS 200 | 1466 | David Sweet | Derian Scott | Chew Valley | 7.0 | 5.0 | 7.0 | (8.0) | 27.0 | 19.0 | |
| 8th | RS 200 | RS 200 | 317 | Ralph Singleton | Ollie Singleton | Restronguet SC | (19.0) | 6.0 | 8.0 | 14.0 | 47.0 | 28.0 | |
| 9th | RS 200 | RS 200 | 578 | Christopher Jones | Harry Price | Pwllheli & HISC | 8.0 | (20.0) | 11.0 | 9.0 | 48.0 | 28.0 | |
| 10th | RS 200 | RS 200 | 1019 | James Williams | Vicky Counsell | CVLSC | 13.0 | 7.0 | 9.0 | (27.0 DNC) | 56.0 | 29.0 | |
| 11th | RS 200 | RS 200 | 1611 | Andy Brierley | Larissa Connabee | RTYC | 14.0 | (17.0) | 12.0 | 7.0 | 50.0 | 33.0 | |
| 12th | RS 200 | RS 200 | 594 | Kyle Brown | Torrunn Brown | Restronguet SC | 15.0 | (19.0) | 10.0 | 10.0 | 54.0 | 35.0 | |
| 13th | RS 200 | RS 200 | 1340 | Ed Harris | Emily Page | Chew Valley Lake SC | 9.0 | 11.0 | 18.0 | (27.0 DNC) | 65.0 | 38.0 | |
| 14th | RS 200 | RS 200 | 1080 | Rose Hallam | Benjamin Marsden | St Mawes SC | 18.0 | (27.0 OCS) | 16.0 | 6.0 | 67.0 | 40.0 | |
| 15th | RS 200 | RS 200 | 1259 | John Warburton | Georgie Warburton / Martin Warburton | CVLSC | 17.0 | 13.0 | (27.0 DNC) | 12.0 | 69.0 | 42.0 | |
| 16th | RS 200 | RS 200 | 463 | Ed Jones | Ruth Law | Queen Mary Sailing club | 12.0 | 14.0 | 17.0 | (27.0 DNC) | 70.0 | 43.0 | |
| 17th | RS 200 | RS 200 | 960 | Nick Martindale | Ruth Kenyon | CVLSC | 25.0 | 8.0 | 13.0 | (27.0 DNC) | 73.0 | 46.0 | |
| 18th | RS 200 | RS 200 | 787 | Nathan Muggeridge | Leo Muggeridge | Wimbleball | (21.0) | 21.0 | 14.0 | 11.0 | 67.0 | 46.0 | |
| 19th | RS 200 | RS 200 | 541 | Milly Tregaskes | Taryn Banks | Restronguet SC | (16.0) | 16.0 | 15.0 | 15.0 | 62.0 | 46.0 | |
| 20th | RS 200 | RS 200 | 379 | Nick Smith | Hannah Metcalfe-Smith | Thornbury Sailing Club | 4.0 | 23.0 | 21.0 | (27.0 DNC) | 75.0 | 48.0 | |
| 21st | RS 200 | RS 200 | 1122 | Ioan Lavery | Clare Allen | CBYC | 11.0 | 12.0 | (27.0 DNF) | 27.0 DNC | 77.0 | 50.0 | |
| 22nd | RS 200 | RS 200 | 914 | Reuben Woodbridge | Joanna Woodbridge | CVLSC | 23.0 | 15.0 | 19.0 | (27.0 DNC) | 84.0 | 57.0 | |
| 23rd | RS 200 | RS 200 | 1342 | Sarah Green | David Green | Llandegfedd | 20.0 | 18.0 | (27.0 DNC) | 27.0 DNC | 92.0 | 65.0 | |
| 24th | RS 200 | RS 200 | 1516 | Martyn Stubbs | Yvonne Smith | CVLSC | 24.0 | 22.0 | 22.0 | (27.0 DNF) | 95.0 | 68.0 | |
| 25th | RS 200 | RS 200 | 358 | Max Williams | Connie Williams | Chew Valley SC | 22.0 | (27.0 DNC) | 20.0 | 27.0 DNC | 96.0 | 69.0 | |
| 26th | RS 200 | RS 200 | 1658 | John Harvey | Izzy Craig | Thornbury SC | (27.0 DNC) | 27.0 DNC | 27.0 DNC | 27.0 DNC | 108.0 | 81.0 | |