Results / GNAC Bassenthwaite SC - 17/09/2022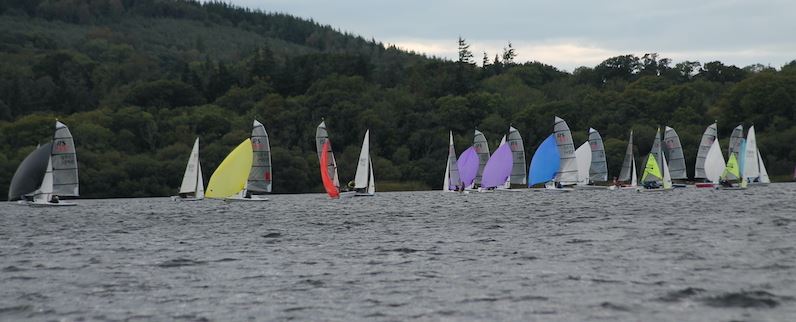 26 RS200s at GNAC! Congratulations to Phil and Naomi Smith, 1st RS200 and 3rd overall.
What a weekend of incredibly close racing; the whole RS200 fleet were on the same leg of the course throughout, often on the same half a leg! One bad shift or decision cost you 5/6 places, there was no room for chilling out in the boat, particularly with the 400s coming through the fleet.
The results throughout the weekend reflect the closeness of the racing, with 1st 2nd and 3rd being scattered throughout the fleet.
Luckily there was more wind than forecast & 7 races were completed over the weekend.
Save the date for next year, Sept 16/17, GNAC 2023 will be the RS200 Northern Champs, part of the Rooster Championship Tour
Great North Asymmetric Challenge 2022
Bassenthwaite SC
RS200
| Rank | Class | Sail_No | Club | Helm | Crew | PY | R1 | R2 | R3 | R4 | R5 | R6 | R7 | Total | Nett |
| --- | --- | --- | --- | --- | --- | --- | --- | --- | --- | --- | --- | --- | --- | --- | --- |
| 1st | RS 200 | 1682 | Tynemouth SC | Andrew Brown | Alex Sutcliffe | 1046 | 7.0 | 1.0 | 10.0 | 1.0 | 1.0 | 1.0 | 1.0 RDG | 22.0 | 5.0 |
| 2nd | RS 200 | 1369 | Bassenthwaite | Phil Smith | Naomi Smith | 1046 | 1.0 | 3.0 | 3.0 | 2.0 | 2.0 | 6.0 | 12.0 | 29.0 | 11.0 |
| 3rd | RS 200 | 600 | East Lothian Yacht Club | Fiona Rigg | Helen Wightman | 1046 | 8.0 | 2.0 | 5.0 | 9.0 | 3.0 | 2.0 | 5.0 | 34.0 | 17.0 |
| 4th | RS 200 | 1606 | Budworth | Martin Joesbury | Sian Joesbury | 1046 | 3.0 | 4.0 | 16.0 | 3.0 | 4.0 | 5.0 | 3.0 | 38.0 | 17.0 |
| 5th | RS 200 | 1709 | Bass SC | Alex Leonard | Olivia Leonard | 1046 | 5.0 | 11.0 | 2.0 | 10.0 | 5.0 | 17.0 | 6.0 | 56.0 | 28.0 |
| 6th | RS 200 | 990 | Budworth/Bass SC | Luke Shaw | Marie Shaw | 1046 | 4.0 | 17.0 | 1.0 | 6.0 | 8.0 | 12.0 | 13.0 | 61.0 | 31.0 |
| 7th | RS 200 | 1068 | Yorkshire dales sailing club | Martin Smith | Barbara Smith | 1046 | 6.0 | 9.0 | 6.0 | 5.0 | 16.0 | 13.5 | 9.0 | 64.5 | 35.0 |
| 8th | RS 200 | 1642 | East Lothian Yacht Club | John Wilson | Laura Glover | 1046 | 13.0 | 12.0 | 7.0 | 4.0 | 10.0 | 3.0 | 27.0 DNC | 76.0 | 36.0 |
| 9th | RS 200 | 1314 | Budworth | Jon Chapman | Wendy Marrin | 1046 | 21.0 | 8.0 | 9.0 | 12.0 | 14.0 | 4.0 | 4.0 | 72.0 | 37.0 |
| 10th | RS 200 | 1730 | Budworth | Kevin Gerald | Bex Smith | 1046 | 22.0 | 7.0 | 13.0 | 15.0 | 7.0 | 10.5 | 1.0 | 75.5 | 38.5 |
| 11th | RS 200 | 1120 | CSSC | Peter Collings | Iona Smith | 1046 | 14.0 | 14.0 | 12.0 | 7.0 | 12.0 | 10.5 | 2.0 | 71.5 | 43.5 |
| 12th | RS 200 | 728 | Leigh & Lowton | Adam Catlow | Martyn Catlow | 1046 | 11.0 | 5.0 | 17.0 | 14.0 | 11.0 | 9.0 | 8.0 | 75.0 | 44.0 |
| 13th | RS 200 | 1560 | Budworth SC | Jon Ward | Hether Ward | 1046 | 9.0 | 13.0 | 8.0 | 27.0 DNC | 9.0 | 8.0 | 10.0 | 84.0 | 44.0 |
| 14th | RS 200 | 807 | Bass SC | Phil Davenport | Oscar Davenport | 1046 | 12.0 | 6.0 | 18.0 | 11.0 | 15.0 | 7.0 | 11.0 | 80.0 | 47.0 |
| 15th | RS 200 | 1037 | Bassenthwaite SC | John Reekie | James & Andrew Reekie | 1046 | 2.0 | 18.0 | 11.0 | 27.0 DNC | 13.0 | 15.0 | 14.0 | 100.0 | 55.0 |
| 16th | RS 200 | 1739 | | Ginger Phil | Poppy Christie | 1046 | 15.0 | 16.0 | 4.0 | 8.0 | 17.0 | 13.5 | 27.0 DNC | 100.5 | 56.5 |
| 17th | RS 200 | 1437 | HLSC/SSC | Adam Din | Alastair Rimmer | 1046 | 24.0 | 15.0 | 14.0 | 27.0 OCS | 18.0 | 16.0 | 7.0 | 121.0 | 70.0 |
| 18th | RS 200 | 1071 | Bass SC | Matthew Somerville | Henry Bullen | 1046 | 23.0 | 27.0 DNC | 19.0 | 16.0 | 6.0 | 18.0 | 16.0 | 125.0 | 75.0 |
| 19th | RS 200 | 1033 | Leigh and Lowton SC | Gareth Williams | Jen Williams | 1046 | 10.0 | 10.0 | 15.0 | 13.0 | 27.0 DNC | 27.0 DNC | 27.0 DNC | 129.0 | 75.0 |
| 20th | RS 200 | 223 | ELYC | Lindsay McCosh | Pizzly Burroughs | 1046 | 25.0 | 19.0 | 25.0 | 18.0 | 19.0 | 20.0 | 15.0 | 141.0 | 91.0 |
| 21st | RS 200 | 1538 | Staunton Harold SC | Matthew Luxton | Desmond Luxton | 1046 | 17.0 | 21.0 | 20.0 | 20.0 | 21.0 | 23.0 | 17.0 | 139.0 | 95.0 |
| 22nd | RS 200 | 507 | Bass SC | Stephen Kirkpatrick | Georgia Kirkpatrick / Lucy Thomas | 1046 | 19.0 | 20.0 | 22.0 | 19.0 | 20.0 | 19.0 | 18.0 | 137.0 | 95.0 |
| 23rd | RS 200 | 867 | Bass | Chris hunt | Beth hunt | 1046 | 16.0 | 22.0 | 24.0 | 17.0 | 24.0 | 24.0 | 21.0 | 148.0 | 100.0 |
| 24th | RS 200 | 1312 | Bass sc | Paul Clark | Emily Clark | 1046 | 18.0 | 23.0 | 23.0 | 21.0 | 22.0 | 22.0 | 19.0 | 148.0 | 102.0 |
| 25th | RS 200 | 501 | Sunderland YC | Rob Howard | Clare Howard | 1046 | 20.0 | 24.0 | 21.0 | 22.0 | 23.0 | 21.0 | 20.0 | 151.0 | 104.0 |
| 26th | RS 200 | 1510 | ELYC | Brendan Lynch | Ellen Clark | 1046 | 27.0 DNC | 27.0 DNC | 27.0 DNC | 27.0 DNC | 27.0 DNC | 27.0 DNC | 27.0 DNC | 189.0 | 135.0 |
Sailwave Scoring Software 2.28.1
www.sailwave.com