Results / Frensham Pond Open Frensham Pond SC - 30/10/2021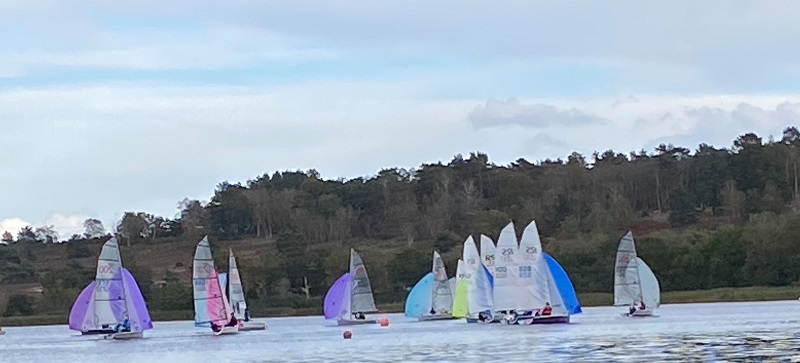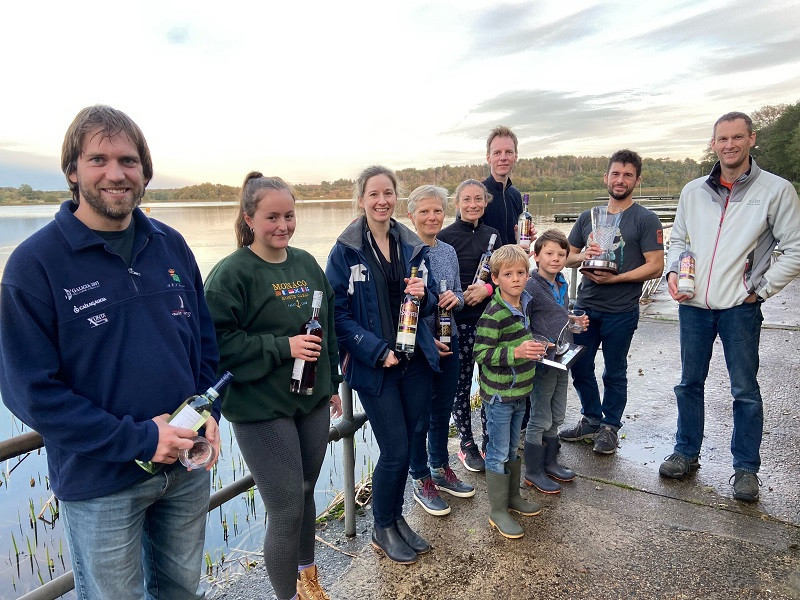 RS200s SEAS Open at Frensham Pond Sailing Club, 30 October 2021
"Well sailed everyone"
You know that thing where you think you've had a pretty good start, come off the line nicely, tack 60 seconds later, look up and say "how on earth did they get that far already?" Mostly, that feeling just hurts, but when the answer is "well, it is Roger (Gilbert)" you know normal service is resumed and you are not alone in your reaction.
And so it was at Frensham Pond SC's 2021 RS200 SEAS Open, sponsored by Sacred Spirits, held in conjunction with the Lark Class Inlands on 30 October. We all arrived to hammering rain and little wind, the latter contrary to the forecast. But as Race Officer Graham Howlett pointed out, there were bits of blue in the sky to the SW which should bring a change and some wind. He was right; as per the forecast, it turned into a mostly sunny day, but the wind never quite delivered the promised 12+ knots. Soak-mode and not much use of toestraps were the order of the day, although we did get one short plane in.
Because we were sharing with the Larks, a windward-leeward course was not practicable, but Graham very cleverly used the marks around the pond to give us as many runs as possible and keep the two fleets separated.
Roger, crewed by son Oliver, led comfortably from start to finish in race one, with Chris and Nicola Webber from Pevensey Bay and David Jessop and Sophie Mear (HISC) battling it out for the rest of the podium, with the former coming out on top. Mark Campbell-James and Zachary Windibank were next, followed by 2018 and 2019 winners respectively, Andy and Katie Shorrock, and Stephen and Rebecca Videlo (Waldringfield/Frensham).
The first three again dominated in race two, but it was all much tighter, with Roger and Oliver far from having it all their own way and everything decided in the last 100 yards. Clive Eplett and Megan Pascoe were next, then Mark and Zac, and Stephen and Rebecca.
A break for lunch brought some changes. Twin William Gilbert stepped in for his brother and David was either put off by listening to your correspondent's chat over lunch, or weighted down by it, because from then on it never quite happened in the way we expect from him.
Your correspondent, beginning to remember (a bit, anyway) how to sail an RS200, together with Megan, got the act together and sailed off into a lead in Race three, gaining upwind, but giving it back to Chris and Nicola downwind. Ultimately, there was no holding the latter back and they took a well-deserved bullet. These two boats had managed to break well away from the rest of the fleet, who were led in by Stephen and Rebecca, Nigel and Andy Bird, having their best race, and Roger and William.
This left it all very tight for Race four. Chris and Nicola could still win overall with another bullet. David could still get on the podium with another good result, as could any of half a dozen others. However, normal service was (mostly) restored. William gave Roger a good talking too (unusual, Oliver is the chatty one) and off they went to a comfortable win, with the consistent Chris and Nicola again second. Stephen and Rebecca obviously had a good lunch, securing a second successive third, enough to secure third overall. Tied on one point more were Clive and Megan, David and Sophie, and Mark and Zachary, those three teams finishing in that order on countbacks. Thanks to RS200 SEAS sponsors Sacred Spirits.
So, what did we learn:
Be warned, another generation of talented Gilberts is on the way. You heard it here first.
Frensham continues to provide challenging racing, where it's never over until you cross the line.
Graham Howlett is a very wise race officer. He shortened the final race to about 25 minutes. Five minutes later, a flat calm descended on the pond.
Practise helps (sorry Megan).
The FPSC 200 fleet is on a resurgence. There were six boats sailed by Frensham youth teams, with Finlay Lomas-Clarke, in ninth, coming out on top in that battle, despite having dad Simon at the front.
I'm probably not alone in thinking back to where I lost the odd point that could have won us each a very lovely looking bottle from SEAS sponsors Sacred Spirits (sorry again Megan).
If you want your boat packed up quickly, borrow one from the Pascoe family; they all descended upon it as soon as we got ashore; the job was all done in the time it took me to undo the knots on the kite.
Given that all the helpers had been thanked already, Oliver Gilbert gave the best winner's speech ever "well sailed everyone."
For more sailing challenges around Frensham Pond, the Covid-delayed 2021 Frensham Frenzy, comprising two pursuit races, takes place on 13 November. Keep eyes peeled for further information to follow.
Report by Clive Eplett
Photos by Megan Pacoe and Kate Hedley-Robinson
Up on Y&Y here
Full Sacred SEAS Tour results here
RS200 FPSC 30 Oct 2021
Frensham Pond SC
Results are final as of 10:02 on November 9, 2021
Overall
| Rank | Class | SailNo | Club | HelmName | CrewName | Rating | R1 | R2 | R3 | R4 | Total | Nett |
| --- | --- | --- | --- | --- | --- | --- | --- | --- | --- | --- | --- | --- |
| 1st | RS200 | 1349 | FPSC | Roger Gilbert | William/Oliver Gilbert | | 1.0 | 1.0 | (5.0) | 1.0 | 8.0 | 3.0 |
| 2nd | RS200 | 16 | Pevensey Bay SC | Chris Webber | Nicola Webber | | (2.0) | 2.0 | 1.0 | 2.0 | 7.0 | 5.0 |
| 3rd | RS200 | 1636 | Waldringfield SC | Stephen Videlo | Rebecca Videlo | | (6.0) | 6.0 | 3.0 | 3.0 | 18.0 | 12.0 |
| 4th | RS200 | 1373 | Frensham Pond SC | Clive Eplett | Megan Pascoe | | (7.0) | 4.0 | 2.0 | 7.0 | 20.0 | 13.0 |
| 5th | RS200 | 1659 | HISC | David Jessop | Sophie Mear | | 3.0 | 3.0 | 7.0 | (11.0) | 24.0 | 13.0 |
| 6th | RS200 | 1183 | FPSC | Mark Campbell-James | Zachary Windibank | | 4.0 | 5.0 | (8.0) | 4.0 | 21.0 | 13.0 |
| 7th | RS200 | 864 | Frensham Pond | Andrew Shorrock | Katie Shorrock | | 5.0 | (8.0) | 6.0 | 5.0 | 24.0 | 16.0 |
| 8th | RS200 | 1395 | RYA | Nigel Bird | Andy Bird | | (11.0) | 9.0 | 4.0 | 8.0 | 32.0 | 21.0 |
| 9th | RS200 | 1102 | Frensham Pond SC | Finlay Lomas-Clarke | Simon Lomas-Clarke | | 8.0 | (11.0) | 9.0 | 6.0 | 34.0 | 23.0 |
| 10th | RS200 | 1643 | FPSC | Sam Goult | Fiona Nee | | (10.0) | 7.0 | 10.0 | 9.0 | 36.0 | 26.0 |
| 11th | RS200 | 1613 | FPSC | Stefan Bennett | Nicki Yelland | | 9.0 | 12.0 | 11.0 | (16.0) | 48.0 | 32.0 |
| 12th | RS200 | 1100 | Frensham Pond Sailing Club | Bridgitte Nee | Samantha Nee | | 12.0 | 10.0 | (14.0) | 10.0 | 46.0 | 32.0 |
| 13th | RS200 | 1452 | Upton Warren Sailing Club | Alistair Hodgson | Ella Spain | | (14.0) | 13.0 | 12.0 | 12.0 | 51.0 | 37.0 |
| 14th | RS200 | 1660 | FPSC | Ben Goult | Sarah McEwan | | 13.0 | (14.0) | 13.0 | 13.0 | 53.0 | 39.0 |
| 15th | RS200 | 1417 | FPSC | Ryan Harris | Lydia Mycroft | | (15.0) | 15.0 | 15.0 | 15.0 | 60.0 | 45.0 |
| 16th | RS200 | 446 | FPSC | Mimi Slump | Sophia Sfaxi | | 16.0 | (19.0 DNF) | 18.0 | 14.0 | 67.0 | 48.0 |
| 17th | RS200 | 528 | Frensham Pond | Tom Flintham | Kirsten kuhnert | | (17.0) | 16.0 | 16.0 | 17.0 | 66.0 | 49.0 |
| 18th | RS200 | 236 | FPSC | Richard Dean | Jolyon Conway | | (18.0) | 17.0 | 17.0 | 18.0 | 70.0 | 52.0 |