Inland & Youth Championship 2018
RS200, RS400, RS800
Grafham Water SC | 06/10/2018 - 07/10/2018
-323 Days to go to the event starts!
Discount ends in -326 Days
Welcome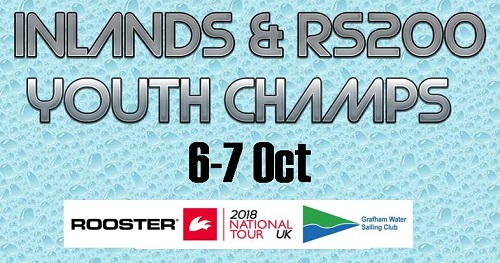 RS200 Inland Championship, RS200 Youth Championship, RS200 Rooster National Tour event no 5, with 3 to count
RS400 Inland Championship, RS400 Rooster National Tour event no 6, with 4 to count
RS800 Inland Championship, RS800 Rooster National Tour event no 7, with 4 to count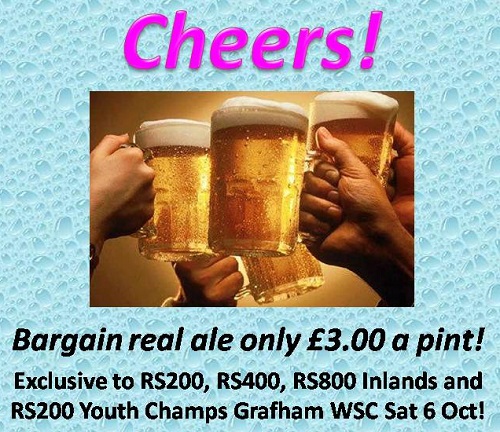 Two days of racing, run by an excellent race team, with a Saturday evening meal and then the opportunity to catch up with old friends and make new buddies at the bar afterwards
Welcome to any UK national champion sailors wishing to use this event as your warm-up for the Endeavour Trophy the following weekend! You do not need to take out RS Class Association membership for this event because you had to be a member of your own class association to become its champion and have the honour of representing them!
Enter online by clicking on the Enter Online title in the menu to your left
Online entry will close at 0001hrs Wed 3 Oct by which time you must have paid your entry fee. Entry and payment after this time will need to be made at registration on Sat 6 Oct and will be subject to a late entry fee of £5
For RS200 Youth Championship the term youth is aged 22 or under at the start of the championship
Entry fee
£40 per boat for RS200, RS400 and RS800
£36 per youth boat (aged 22 or under at the start of the event)
£6 per boat for Grafham WSC members - please enter online but pay at registration
In order to alleviate the need to fill in an extra paper form at registration GWSC has agreed that by entering online you have agreed to their club requirements with regards to medical declaration, agreement to comply with the ISAF Racing Rules of Sailing, RYA Prescriptions and Sailing Instructions, including measurement compliance, licensing laws, GWSC rules, liability and photography permission. You can read the full information
here
You must comply with GWSCs biosecurity requirements as per Check, Clean, Dry
here
Please contact me if you have any questions on
clare@rs-association.com
There must be a RS Class Association member in the boat in order to race at this event. You will need to use your RS Class Association membership number on your entry form. Annual membership costs £39. You can join online at the UK website home page or in person at registration. You could take out one event membership at registration. This costs just £10. This £10 will be deducted from the full cost of annual membership if that is taken out within the calendar year
Registration will be held at the GWSC Race Office from 0930hrs-1100hrs on Saturday
A competitor briefing will be held at 1145hrs Saturday morning in the Downstairs Wet Bar
Race Format
The RS200 event appendix is
here
The RS400 and RS800 event appendix is
here
Three back to back races are scheduled for Saturday with the first race start not before 1300hrs
Three back to back races are scheduled for Sunday with the first race start not before 1030hrs
At the discretion of the Class Representatives and the Principle Race Officer Race 4 may be brought forward to Saturday to allow for any inclement weather forecasts. This decision will be announced at the briefing
Accommodation
Campers and camper vans are welcome and pre-booking of a Campervan site from the Club Office
here
/ 01480 810478 or using the form on the GWSC website is essential. £10 per night per tent to camp or £15 per night per campervan. Sleeping in car counts as camping and sleeping in van counts as campervan in order to comply with planning permission camping permit. Spot checks are undertaken by the Council. Please note the lease does not allow caravans
Accommodation next door at Grafham Water Centre is now available on a first come first served basis. Sat 6 Oct 2018 night only. £25 per person including breakfast on Sun from 0800hrs. To book phone 01480 810 521 using reference 'RS Event'
Find accommodation information on the Club website
here
Catering
All day cafeteria both days
Saturday evening meal 1800hrs: £10 for main course and pudding
Main course of either:
Chilli and rice
OR Hunters chicken with potato wedges and salad
OR Vegetarian option: goats cheese and red onion tart, new potatoes and salad
Followed by dessert of either:
Strawberry cheese cake with cream
OR Death by chocolate with cream
Book your tickets online here with your entry to save time at registration and enable the caterer Lisa to plan ahead. More tickets available at registration. Please contact me if you have any special dietary needs on
clare@rs-association.com
Directions
to Grafham Water Sailing Club, details of local accommodation, and other information are available on the Club website
here
Happy RS Sailing!
Clare