RS200 Volvo Noble Marine RS200 National Championship 2019
Royal Torbay YC | 05/08/2019 - 09/08/2019
The Event Has Started.

Welcome

The RS200 fleet return to the prestigious Royal Torbay Yacht Club on the English Riviera for the 2019 National Championships.
We have reached our 100 boat limit. If you would like to be added to the waiting list, please enter online, but do not pay. We are giving those entered until Fri 12th July to pay for their entry. After that places will be offered to those on the waiting list. We do usually have some drop outs, so please do put your name on the list if you would like to take part - you may well still get a place.

Racing will take place in Torbay, just a short sail from the launching area below the clubhouse, where sailors and supporters will be warmly welcomed and enjoy a social programme befitting the RS200 reputation!
Racing
Registration will take place on Sunday from 14.30-18.00 and on Monday from 08.30-11.00

The race briefing will be held at 19.00 on Sunday 4th August.
2 races/day are scheduled, from Monday 5th August to Friday 9th August, with the first scheduled start at 13.00 on Mon 5th August. See NoR and SI's tab on this page for full the NoR and SI's.

Social Programme
The social programme starts on Sunday 4th August with the Commodore's Reception, race briefing and gate start seminar.
The social team have a full week of activities planned, with something to suit everyone from Karaoke, to Masters' Meal, the all-important Buddy Group Quiz, the legendary Fancy Dress Night and of course the final night Championship Black Tie Dinner and Party, sponsored by RS Sailing. See the 'Social Programme' tab for more details.
Please buy your meal tickets with entry to help the club plan – there is a bundle deal available to save you time, hassle and money. This includes all but the BBQ Night - please buy tickets for this separately. It's a great way to ensure your child/helm/crew eats well throughout the week!
The Masters Meal ticket is a deposit, with balance to be paid dependent on what you order.
Coaching
There will be a half-day pre-Nationals coaching session on Sunday 4th August, with Morgan Peach, plus rigging support from Will Taylor. Ideal for those new to the fleet, wanting to get to know the sailing area or just looking for some moral support. Spaces are limited and must be booked with entry. The cost is £25/boat - please book with your entry as places are limited.

Logistics and Accommodation
Boat parking will be on the quay, with launching into the harbour as shown on the photo below.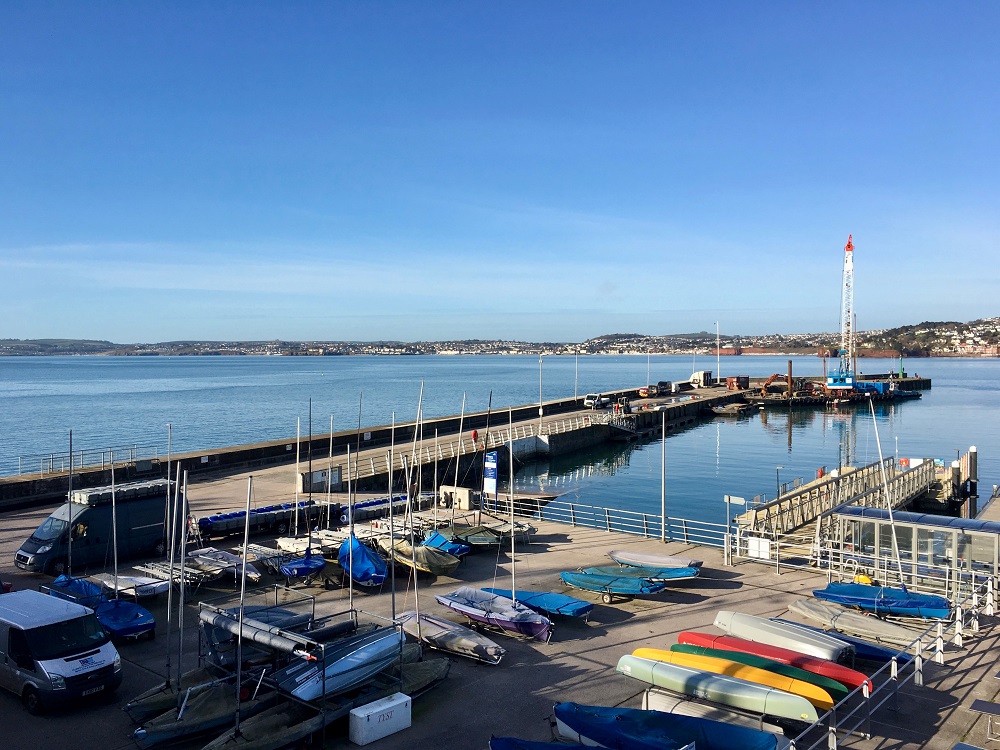 Parking in Torquay in August is limited, so we suggest you book your accommodation within walking/cycling distance if possible.
There is a wide variety of accommodation in Torquay and the club have arranged space for campers at the local cricket ground.See 'campers' tab.

Please see the logistics tab on this menu for key information on accommodation, weekly parking tickets etc.
Harken Buddy Scheme
The RS200s pioneered the popular Buddy Group system, this year sponsored by Harken – all entrants will be put into a Buddy Group of 3 boats, 1 gold fleet, 1 silver fleet and 1 bronze fleet. As well as helping everyone get to know each other, and the chance to win great prizes on the Buddy Quiz night, this scheme is invaluable for sharing tips and improving the standard of sailing right across the fleet – did you know that at the RS Games the winner from the 115 boat fleet finished most races only 8 minutes ahead of the last boat to cross the line?!
Each sailor in the top buddy team will win a great Harken prize to be awarded at the Championship prize giving.
Entry
Early entry fee will be £180 per boat adult, £155 for youths (aged 22 and under) for those entering and making payment before 1st July. Entry is now via this website!
Entry includes all racing and entry to the full social programme. Meals are optional extras and should be booked with your entry - with 200 sailors on site the club do need you to do this to help them plan, or you risk going hungry!
Entry after 1st July is £205 for adults, £180 youths.
Online entry closes on 1st August. Entry on the day may be possible (with a £25 admin supplement vs std entry) if maximum numbers have not been reached beforehand.