RS200 RS200 Eurocup, Northern Ireland 2019
Strangford Lough | 24/05/2019 - 27/05/2019
The Event Has Started.

Travel
John McKelvie has been working hard on several initiatives to minimise travel costs
We advise sailors to get together and use multi-stackers to minimise ferry costs.
John McKelvie is co-ordinating multistackers, please contact him if you are interested.

Sailboat Deliveries are taking bookings now, £350 per boat, with a minimum of 8 boats needed to make it viable. Please contact becky@sailboatdeliveries.co.uk Then all you need to do is book a super cheap flight to Belfast and the club is just a short distance away.
Ferries, including discount

There are four ferry routes you can use:
Liverpool – Belfast
Holyhead – Dublin
Cairnryan – Belfast
Fishguard – Rosslare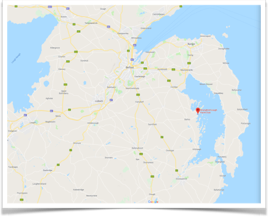 We recommend either one of the first two options. The overnight ferry from Liverpool with a 4 berth cabin is particularly good and the timings usually work out well. Whilst a little more expensive the driving time and petrol/diesel is a lot less.
Journey time from Belfast Port to SLYC is about 45 minutes when towing. From Dublin Port the driving time would be 2 – 2 1/2 hours.
John McKelvie has negotiated a 15% discount with Stena Line - you will be given a booking code with your entry.
Belfast is served by two airports; the George Best City Airport and the International.
The City Airport is approximately 30 mins from SLYC and the International is about an hour.